OVERVIEW
Heavy duty curved roller track systems from AKON are used around the country in both industrial, commercial and residential applications. The trolleys ride inside of an enclosed track made from one piece construction galvanized steel making them some of the strongest trolleys on the market. The roller wheels are made from either steel or nylon depending on the weight load you need to carry. AKON's curved ceiling tracks consist of three basic components: trolleys, tracks, and the supports.
Curved Trolley Corners | Overhead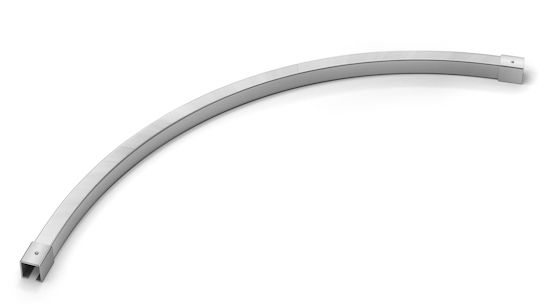 Radius

Corner
By using a 90 degree curved sliding track you can go around obstructions or make shapes. Just like the other curved trolley track components, the 24" radius corner quickly attaches and detaches as needed. Use 1 radius for an L-Shape design, 2 radius corners for a C-Shape and 4 radius corners for a complete curved box rail enclosure.
Curved Trolley Corners | Freestanding
Freestanding

Trolley Curves
If your application does not allow for a ceiling mounted trolley then you can utilize our freestanding trolley with curved corners. This style of trolley is supported by uprights that anchor into the floor if needed. Please note that the distance of these uprights will be determined by the load that you are looking to support. Freestanding style is made for lighter loads than the overhead ceiling mounted trolley. Approximately 75bs per trolley and with a spacing of 4' per trolley.
Overhead Ceiling Storage Rails
Using AKON curved suspended ceiling system, you slide your items out of the way for storage. Then when they are needed again, you can roll them back to an open spot on the floor take them down. Common in garages, shops and workshops for moving all kinds of items around at the ceiling level.
Hang Industrial Curtains
Akon is a premier supplier of long lasting heavy duty industrial curtain track. From 10' to 500' we can provide you with a ceiling curtain track that will endure the rigors of heavy use and harsh environments. When using the roller hook trolley you can attach your industrial curtain or tarp and roll your curtains into place.
Hose Trolley Festoons | Greenhouses
Using the Akon Trolley, you can better organize your overhead water hoses. The hose trolley suspends the hoses over the floor and plants. This allows the hose to be stretched out as you walk along to perform watering duties. Keeping hoses above the work area reduces tripping accidents, frees up additional space, allows for quick watering and neat storage when not needed.
Air Hose Trolley System | Shops and Garages
The Akon Air Hose Trolley is the solution to disorganized and cluttered air hoses. This innovative trolley suspends the hoses overhead, keeping them off the floor and out of the way of your work areas. As you move around the production floor, the hose stretches out with you, providing easy access to the pressurized air you need. Not only does this system improve safety by reducing tripping hazards, but it also maximizes your workspace by freeing up valuable floor space. And when the workday is done, the trolley makes it simple to neatly store your hoses for the next time you need them. Using a ceiling track system for a garage is a great way to take back your space.
Overhead Track & Trolley | Shops, Garages, Production
If you need to move product, tools, items or just about any object overhead then our overhead track and trolley could be your solution. By using our various styles for roller trolley carriers combined with our 16gauge galvanized steel track you can make your own trolley system. These are common with industrial customers who need to product from one area to another. Workshop ceiling track systems are easy to install and quick to modify as future layouts are required.
Description
Choose a trolley that best fits the item that you want to hang on the overhead trolley. Nylon wheels are for lighter load weights and steel wheels are for heavier load weights. The steel wheels have ball bearings for easy rolling. All hooks will freely swivel 360 degrees so that you can spin your item.
Trolley Attachment Mounts
Ceiling

Mount Trolley
Choose this mounting style if you want your industrial curtain track to mount to the ceiling with only a few inches of open gap.
Wall

Mount Trolley
This curtain track mount is designed for mounting the track next to a vertical wall or stud. This can be parallel to the wall, or perpendicular.
Chain or Cable

Mount Trolley
Like the threaded rod, a chain supported curtain track is also good for spanning large distances. Both chain or cable can be used to hold up the track.
Threaded Rod

Mount Trolley
If the distance between the anchor points above is higher than where you want the curtain track, then a threaded rod mount might work well. Steel rods support the track and span the distance between the track and the ceiling.
I-Beam

Mount Trolley
When connecting to a truss, I-Beam or any other horizontal steel support this style of mount works best. Once connected, you simply tighten down the set screw.
Dimensions
---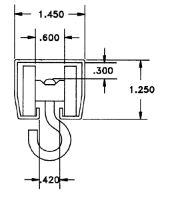 Track Thickness: 16 gauge
Material: Galvanized Steel
Dimensions: 1.45″w x 1.25″
Warranty: Lifetime
Load Capacity
---
The AKON enclosed overhead trolley should always be properly secured to a strong structure to prevent it from falling and causing an injury. AKON does not provide guidance on fasteners for attaching the trolley track. The trolley track is not intended to hold a person. The safe load limit of the overhead trolley track and trolley is determined by 3 variables:
Structure Load Capacity

Your structure needs to be strong enough to hold the track plus the load

Trolley Load Capacity

(2) Nylon wheels are 40lb capacity, (2) Steel wheels are 75lb capacity, (4) steel wheels are 125lbs capacity

Track Load Capacity

The spacing of the track supports will determine the maximum load capacity. The closer the track supports are to each other, the more load it can hold. As a general rule, for maximum heavy load capacity you want the track supports every 3'. Lighter loads allows you to increase the track support spacing. Never space out your supports farther than 6'.
Ordering
---
Leadtime
Ships in 3-5 work days
Ships UPS or FedEx. You can also specify your shipping account
Once you place your order we will email you an order confirmation with all of the components itemized for you to review.
Warranty
We provide materials for industrial companies so we know how to supply a tough product! Its very unlikely that you will have any issues, but if you do, rest assured the hardware comes with a lifetime manufacturer's warranty. We do have the right to repair or replace any potentially defective products but we will make sure you get what you need. The warranty will not cover any damages caused by improper use, improper installation or abuse.
Returns
AKON has a 30-day return policy from date of shipping. The hardware must be in the same new condition as when you received it and the shipping fees will be deducted from the refunded amount.