OVERVIEW
Retractable sports netting also known as sport net track hardware is the best way to allow your sports netting to roll easily open. The roller hooks inside of the sporting net track system roll with minimal friction unlike steel on cable hooks. You can choose from a wide range of different sizes, designs and materials for the best performance. The track snaps together without any welding and can be taken down for new layouts in the future if needed.
Frictionless Rollers For Smooth Operation
Sport Net Track
AKON offers various styles and designs to accommodate any type of sport net without any compromise on performance. The basic material used in the tracks is 16 gauge galvanized steel and many pieces can be joined together to form a single seamless long track. Sometimes it is required to enclose the practice area, for that purposes special 90 degree bending sports netting tracks are also offered to create enclosures. Here is the complete list of components available by AKON. It can also tolerate prolonged and repeated exposure to physical impacts without any decrease in performance.
Sport Net Hangers
AKON provides specially designed rugged baseball net hangers with all the track products to ensure smooth and efficient performance. The roller wheels move inside of the net tracks which gives a superior finishing to baseball cage frame. The roller wheels are made of nylon. For best performance, AKON suggests each rollers wheel to be installed every 12''. Keep in mind the load capacity for nylon wheels is 40lb, while steel roller wheels can easily accommodate load of 75lb.
Sport Net Track Corners
In most sport net applications, creating an enclosure is very essential. AKON sport net track corners enable you to quickly assemble and disassemble enclosures suitable for different sports. Every item is specially designed to sustain rugged environmental conditions. AKON sport net track corners have 90 degree bend to create enclosures with accurate dimensions necessary for different sports requirements. The bend radius can be 24'' to provide block-free operation.
Sport Net Track Mounts
Depending on your needs, you have the option to choose from several different mounting styles. You can mount directly to the ceiling, joists, chains, cables, adjacent walls, threaded rods, or trusses. You can even choose a free standing curtain track which can be moved around.
Benefits and Applications
Baseball Rollaway Cage
Practise in different environments and scenarios by utilizing the same equipment as AKON sport net tracks can be moved from one place to another with ease. You can now have a baseball cage in garage with our products!
Sports Netting Track
Special materials are used to manufacture hanging baseball net and tracks that are robust and can handle excessive physical impacts for years.
Retractable Sports Netting
Efficiently manage space on your sporting facility by using AKON retractable sports netting. Partition enclosures for different practice session or dedicate the entire floor for one event.
How does the netting attach to the track?
The track uses a roller hook that rolls inside of the track. You can connect the netting directly to this hook using various snap clips or other hardware. You can also drop the netting down from the track using a small 3/16" chain as shown in the graphic below. The weight of the netting keeps the netting on the hook.
Do you offer a closed loop roller hook?
Yes we do offer a closed loop hook as shown below.
What are the dimensions of the curtain track?
Below you will see the dimensions of the standard 16 gauge curtain track.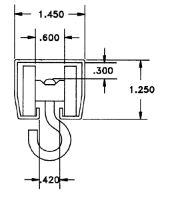 How much weight can the roller hooks support?
The sport netting track roller hook weight limits are as follows:
(2) Wheel Nylon Roll Hooks - 40lbs Capacity each
(2) Wheel Steel Roller Hooks - 75lbs Capacity each
(4) Wheel Steel Roller Hooks - 125lbs Capacity each
Will the curtain track rust?
The curtain track is a 16 gauge hot dipped galvanized steel. It is designed for use in wash bays, outdoor use and indoor use. It has a lifetime warranty and will not rust.
How hard is it to install the sport net tracks?
It is very easy. All of the components simply fit into each other and connect with set screws. The installation is very intuitive. If you have any difficulty simply call or email us and we will walk you through the process.
Can I simply drill straight through the track and into the ceiling / structure?
Yes. This is called a flush mount install and is very common. Simply drill through the middle of the track and use a small wood screw, bolt, Tek screw...ect into your structure. Space the holes about every 3-5'.
What keeps the rollers from rolling out of the end of the track?
Each track comes with end stops that contain the rollers inside of the retractable sport net track.
How close together do I need the track supports?
The track should be supported approximately every 5' with a track support. The farther apart the track supports, the greater the deflection. If you have a relatively light weight netting then you could space the supports out to about 8' apart.
What size threaded rod do I use for the threaded rod  track?
You would use a 3/8"  threaded rod which you can get from any local hardware store.
What is a "splice" and what is a "connector"?
A Splice connects two pieces of track together. A Connector holds the track up. Keep in mind, we also have splice connectors that are also track supports. The one shown in the graphic below is only a straight splice connector which does not hold the track up.
Click Below to Download Installation Directions
---
Standard Netting With Rolling Track