OVERVIEW
Akon offers freestanding trolley track for your industrial, commercial and residential applications. This hardware is modular in design and can be configured in almost any length and height. The floor mounted trolley hardware features base plates which can be anchored to the floor for rigid stability.
Make Any Configuration
The trolley track can be laid out in almost any configuration to meet your application needs. With a friction fit and set screw locking assembly it is easy to install and can be taken apart and reassembled for future applications. Make free standing trolley lines moving products along an assembly line or to just move items from one area to another.
Commercial and Industrial Uses
Rolling Trolley Mount
Trolley rollers both plate style and hook style roll inside of the trolley track to allow easy movement of the product back and forth. The industrial free-standing trolley system can even roll items around the corner with the use of our radius corners.
Made To Your Specifications
Sized Per Application
The free-standing trolleys are custom made to suit your application. You can have any width you need and up to 15′ in height. While the trolley parts ship in standard sizes, they are easy to cut down to size for very specific application requirements.
Bolt Together Design
The trolley track hardware is completely self supporting and is an ideal solution when our top down hanging hardware cannot be used. All of the components are made from galvanized steel and can be quickly installed. The frame can then be broken down if need be and moved to a new location.
Industrial Applications
The freestanding trolley can be used in a multitude of applications where light weight items need to be moved along. This walk draw method of moving items or products along a work area is common in many different industrial settings.
Description
Choose a trolley that best fits the item that you want to hang on the overhead trolley. Nylon wheels are for lighter load weights and steel wheels are for heavier load weights. The steel wheels have ball bearings for easy rolling. All hooks will freely swivel 360 degrees so that you can spin your item.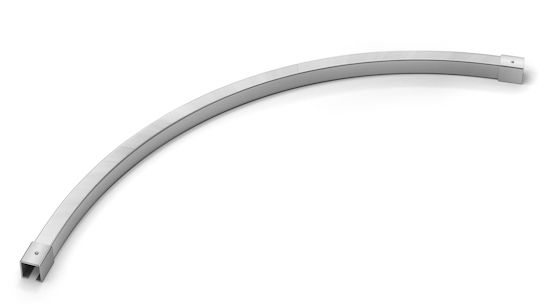 Radius

Corner
By using a 90 degree radius corner you can go around obstructions or make shapes. Just like the other trolley components, the 24" radius corner quickly attaches and detaches as needed. Use 1 radius for an L-Shape design, 2 radius corners for a C-Shape and 4 radius corners for a complete enclosure.
Construction
Galvanized steel - Hot-dip galvanizing (HDG)
Lifetime warranty
Uprights
1.25" tube
Max height is 12'
Maximum distance between uprights is 10′ (weight is deciding factor)
Layout drawing provided with each order for your approval
Base Plates
6" x 6" or 12" x 12"
3/8" lag holes located in each corner
Assembly
Your order will arrive as a bolt together kit
Simply assemble hardware and then hang your item(s)