Description
Description
Your steel industrial trolley track kit includes all the components that you need to hang your item(s). Once you place your order we will email you an order confirmation with all of the components itemized for you to review. Please note that the track is not cut to the exact sizes that you input on the form. Track pieces will ship out in stock sizes and are made to be field cut with a hacksaw or power saw. Components included with your kit include.
Trolley rollers
Track supports for spacing every 3′
Straight track sections that splice together
End stops to keep rollers inside of the track
Optional – 90 Degree radius corner
Optional – 90 Degree hard corner
Lifetime Warranty
Dimensions
---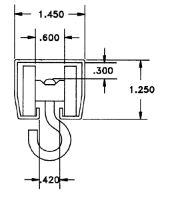 Track Thickness: 16 gauge
Material: Galvanized Steel
Dimensions: 1.45″w x 1.25″
Load Capacity
---
The AKON enclosed overhead trolley should always be properly secured to a strong structure to prevent it from falling and causing an injury. AKON does not provide guidance on fasteners for attaching the trolley track. The trolley track is not intended to hold a person. The safe load limit of the overhead trolley track and trolley is determined by 3 variables:
Structure Load Capacity

Your structure needs to be strong enough to hold the track plus the load

Trolley Load Capacity

(2) Nylon wheels are 40lb capacity, (2) Steel wheels are 75lb capacity, (4) steel wheels are 125lbs capacity

Track Load Capacity

The spacing of the track supports will determine the maximum load capacity. The closer the track supports are to each other, the more load it can hold. As a general rule, for maximum heavy load capacity you want the track supports every 3'. Lighter loads allows you to increase the track support spacing. Never space out your supports farther than 6'.
Ordering
---
Leadtime
Ships in 3-5 work days
Ships UPS or FedEx. You can also specify your shipping account
Once you place your order we will email you an order confirmation with all of the components itemized for you to review.
Warranty
We provide materials for industrial companies so we know how to supply a tough product! Its very unlikely that you will have any issues, but if you do, rest assured the hardware comes with a lifetime manufacturer's warranty. We do have the right to repair or replace any potentially defective products but we will make sure you get what you need. The warranty will not cover any damages caused by improper use, improper installation or abuse.
Returns
AKON has a 30-day return policy from date of shipping. The hardware must be in the same new condition as when you received it and the shipping fees will be deducted from the refunded amount.