OVERVIEW
Are you looking for heavy-duty curtain track? If so, then Akon can help. We supply heavy-duty track which is ideal for indoor and outdoor applications that require heavy-duty curtain hardware to achieve optimal performance and longevity. Designed from high-grade galvanized steel, and featuring nylon roller curtain hooks, the industrial-strength components will work flawlessly for years to come.
Heavy Duty Curtain Tracks
All of the components are designed to be easily installed and hung from your available structure. The track simply bolts together and comes with detailed installation instructions. The heavy-duty curtain track is also rigid enough that your heavy curtains will not bend or sag the track.
Key Benefits
Resistant to corrosion and rust
Radius corners for clean look
Roller wheels allow for easy glide
available in any length and shape
components are modular in design
industrial curtain hooks of all sizes
Curtain Mounting Hardware
There are several methods in which you can mount the curtain track to your above structure. Depending on the style of ceiling or joists that you have above, there are some considerations to take into account. Primarily, how far down do you want the curtains to hang from above, and how to interface with the heavy duty curtain track system. Here are some options:
HEAVY DUTY TRACK
Akon is a premier supplier of long lasting heavy duty industrial curtain track. From 10' to 500' we can provide you with a curtain track that will endure the rigors of heavy use and harsh environments. Also used as tarp curtain track and for trolley applications.
Industrial Curtain Track
We offer several styles of industrial curtain tracks to hang your industrial curtains or batting cage netting. The tracks are constructed from high quality 16 gauge galvanized steel and can be connected together for almost any length. 90 Degree bends are also available for applications where the curtain has to enclose an area. Click here to view all curtain track components: All Components.
Industrial Curtain Hangers
All industrial curtain track features industrial curtain hangers. These hangers roll inside of the track and allow the curtain or sport netting to move effortlessly forward and backwards. The rollers are fabricated from nylon or for heavier curtains or nets, they can feature steel wheels. Generally we suggest these hangers be connected to the curtain every 12". Nylon Rollers have 40lb capacity, steel rollers have a 75lb capacity.
Industrial Curtain Corners
Almost any configuration is possible with the use of the 90 degree radius corners. These 24" radius corners allow the curtain to roll from one side to the other with ease.
Industrial Curtain Mounts
Depending on your needs, you have the option to choose from several different mounting styles. You can mount directly to the ceiling, joists, chains, cables, adjacent walls, threaded rods, or trusses. You can even choose a free standing curtain track which can be moved around.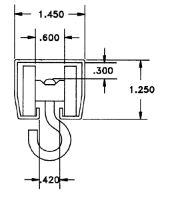 Track Thickness: 16 gauge
Material: Galvanized Steel
Dimensions: 1.45″w x 1.25″
Capacity: 125lbs per linear foot (Using Steel Rollers)
Dimensions: Click here to download PDF
Warranty: Lifetime
Types of Curtain Track Mounts
Ceiling Mount Curtain Track
Choose this mounting style if you want your industrial curtain track to mount to the ceiling with only a few inches of open gap.
Wall Mount Curtain Track
This curtain track mount is designed for mounting the track next to a vertical wall or stud. This can be parallel to the wall, or perpendicular.
Chain or Cable Curtain Track
Like the threaded rod, a chain supported curtain track is also good for spanning large distances. Both chain or cable can be used to hold up the track.
Threaded Rod Curtain Track
If the distance between the anchor points above is higher than where you want the curtain track, then a threaded rod mount might work well. Steel rods support the track and span the distance between the track and the ceiling.
I-Beam Curtain Track
When connecting to a truss, I-Beam or any other horizontal steel support this style of mount works best. Once connected, you simply tighten down the set screw.
What is the curtain track constructed from?
The curtain tracks are constructed from galvanized steel. They resist rusting and are suited for ocean side use, chemical wash down applications..ect.
How thick is the curtain track?
The standard curtain track is 16 gauge thickness. (Note 16 gauge = 0.0635 inches). At this time, we do not offer 12 gauge thickness (0.1084 inches) because it is often times overkill for hanging curtains.